Economic Development

Tapart
"Each community and country in the world has its own vibrant history & heritage, talent & resources, and many wonderful things of economic value to offer to the betterment of the entire humanity. CARBON's portfolio of innovative solutions is for maximizing these unique opportunities to advance economic growth of these communities and make the world a more sustainable and equitable place."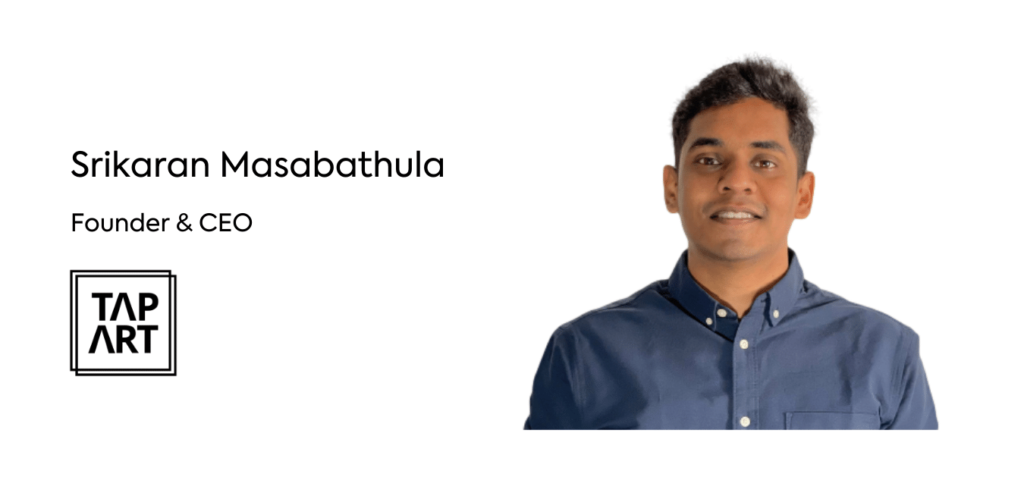 While I was pursuing my undergraduate studies at Knox College, IL, I noticed first-hand how artists suffer from a lack of money, primarily because of their lack of business acumen. The artists were so talented, yet there was only so much they could do. We have all heard the term- 'starving artists'- I wanted to do something about it. With limited resources, but a strong will and passion, we built TapArt- a platform that helps budding, as well as established artists across the world monetize their artwork while taking the less important functions such as sales and order fulfillment out of their way. 
My dream is to democratize the art world by helping support artists develop their audience while connecting them to buyers who are interested in buying unique, quality works of art from real, authentic artists across the globe. I believe that artists deserve a better shot at creatively expressing themselves and helping fill our lives with color and happiness. Through our fully digital marketplace, we give artists a fair chance while eliminating their hassles and helping them truly focus on what they do best- i.e. creating artwork. 
Description and compelling attributes
Buying and selling art pieces (wall art, paintings, murals, etc) has been to-date mostly a brick-and-mortar business, save few broad marketplaces having some listings for art pieces. This has kept this part of the economy from not benefitting from rapid digitization trends across the global economy. This means quality art pieces are still expensive and beyond the reach of most of the population, very limited access (unless someone with personal airplanes to browse galleries all over the world) to buyers, very limited customer base for artists, geographical barriers, a highly burdensome process for any artist to be in their own business (in terms of production, shipping & handling, logistics, customer support and payments, marketing, etc). The result is that the most talented artists all over the world are unable to monetize and earn a fair share of value for their immense talent, and the art-lovers all over the world missing the diversity of art pieces to choose from and enjoy. Overall, the art world is still stuck in the 19th century while the rest of the sectors humming along to efficiencies of the digital economy in the 21st century.
TapArt has created a purpose-built digital / e-commerce solution to connect artists and customers eliminating geographical barriers, delivering a frictionless and immersive experience (that is simply not possible in the brick & mortar model) to participants, connecting artists with peers and with their art-lovers in ways hitherto not possible, and thus reducing costs, making quality at affordable prices and within reach of the average buyer, bringing global product diversity and choices. Most importantly, for the first time, it would make it possible for a talented artist in the remote parts of the world (whether a village in Africa or Vietnam, or Honduras) to be able to get fair value and monetization of his/her talent — making the world a better place that values diversity, adding to the economic development of communities and societies, and bringing financial-economic equity.
TapArt's digital marketplace model to monetize artist talent and works is very capital-light, easy to extend and replicate to other communities and countries as well as arts categories. All the key business processes (engaging and delivering experience-driven art products, order-to-payments, fair-value sharing, community building, artist and art onboarding, etc) are designed in a way that lends itself to easy replication and scale.
Art commerce today is barely touching a tiny fraction of talent that exists – both in terms of visibility to the diversity of artwork (for the artlovers-at-large to benefit) as well as ensuring those artists receiving fair economic value of their creations. Imagine the impact on economic well-being of this massive ignored community of artists, along with richness of art work for buyers to enjoy, by replicating TapArt model to all parts of the world.
We invite ALL who care about economic fairness, the wellbeing of artists bestowed with artist talent, and enrichment of the art marketplace to join us in taking this innovating and easy-to-replicate solution to all parts of the world.